We form teams capable of optimally and quickly resolving issues. We confront issues together with our clients.
Based upon Japan's decreasing birthrate and aging population, the rise of developing nations particularly in Asia, globalization of production and consumption, breakdown of business models, and emergence of new business models that accompany evolving technologies, there is no doubt that the business environment in Japan and overseas is now changing at a tremendous speed. This unprecedented change includes changes in the framework of laws and regulations, which are undergoing frequent revisions in order to adapt to changes in the real world. I believe that it is only when attorneys are not only knowledgeable in the law, but also familiar with social changes, that they are able to resolve the issues faced by their clients.
Kitahama Partners is a full-service law firm that handles matters primarily of corporate law and many other kinds of legal matters both in Japan and overseas. Our offices are located in Tokyo, Osaka, and Fukuoka. Our attorneys are experts in M&A, securities, finance, intellectual property, restructuring and insolvency, anti-monopoly and competition law, international transactions, disputes and arbitration, and many other areas which allow us to provide one-stop comprehensive legal services. We have an established reputation in Japan for "top-class problem-solving ability." Two things factor largely in this.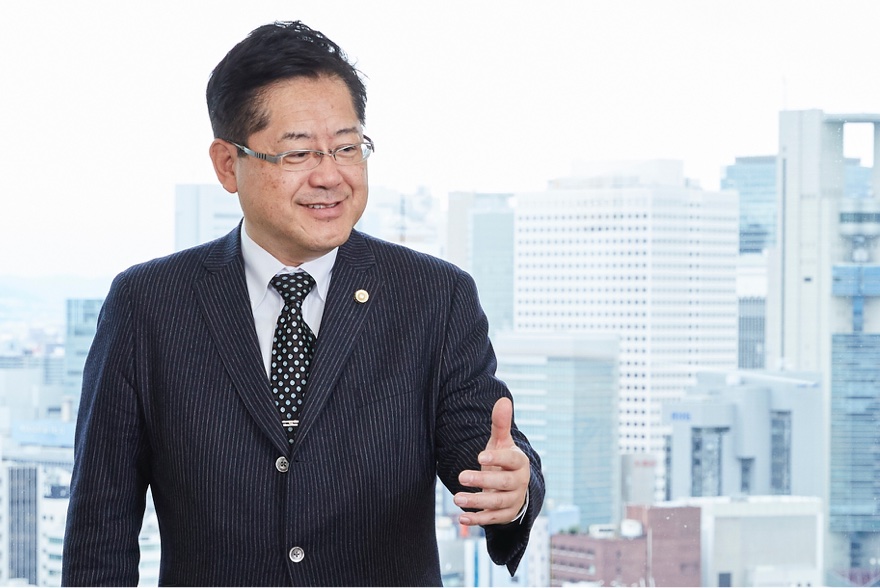 The first is "speed." Speed is one of our core values and is made possible by the excellent skills, extensive experience, and enthusiasm of our attorneys. We are often told that, "Kitahama Partners' response is fast," and our network of overseas law firms makes it possible for us to address international matters with accuracy and speed as if we were actually on the ground locally. This is due to a solid group of attorneys whom we send to Europe, North America, and developing nations for study-abroad and work assignments, and the ties they form overseas with attorneys of excellent ability.
Next is "communication." We listen carefully to what our clients say and create a sense of unity with clients in proceeding with their work, just as if we were clients ourselves. This close communication produces mutual trust and optimal results. This is true as well in interactions between the attorneys and staff members in our offices. At Kitahama Partners, there are no individual offices for attorneys, and everyone works together in one large room. Over the years, we have grown into a large law firm, but the policy formulated at the time of our establishment in 1973, "Let's not build walls between attorneys but bring good human relations to the performance of our work," is a philosophy to which we have always adhered and still carry on today. Our attorneys are bound by relationships of mutual trust and approach their work by forming teams to address each matter in a way that enables optimal and prompt resolution. The results obtained translate into high quality legal services.
Kitahama Partners is dedicated to providing ever greater quality and speed and keeping our brand identity "Together With Our Clients" constantly in mind. We will continue to move forward in our endeavor to contribute to the welfare of our clients and the betterment of society.
Hiroshi Morimoto
Representative of Kitahama Partners and
CEO of Kitahama Group
Brand Identity Together With Our Clients.